"Just wanted to say again how terrific you were in my play. You really are a gifted actress and a consummate professional. Bernie* absolutely elt the same. So I'm thinking that this play should become your Hello, Dolly -- to take it on the road and play it all over. It's a great vehicle for you!"
Alan (Gelb) playwright of Mombo
*Bernie is veteran TV director Bernie Kukoff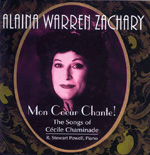 I'm probably one of the world's most critical listeners when it comes to art songs or classical songs. I've been a fan of Chaminade's music ever since I first heard a few of her piano works. But because of my reluctance to test the waters with vocal works, I tended to avoid her songs. In fact, in my collection of recorded music, every single piece by Chaminade is either for piano or strings. That is, till now.
Imagine my own delight at hearing not just one song, but an astonishing 24 that held my attention, captivated my soul and spoke to my heart. Such was the case on hearing the sublimely beautiful recording Mon Coeur Chante!, The Songs of Cécile Chaminade performed by Alaina Warren Zachary (soprano) and R. Stewart Powell (piano.) From the start, I was struck by the clarity of sound and the quality of the playing and singing. The talent of this performing duo is immediately apparent. The pairing of Powell and Zachary is as though one person were performing. They seem to be perfectly matched in their talent and understanding of this woman's music. Zachary's clear sweet voice demonstrates incredible control and uniformity of expression throughout her range. Never a harsh or forced note is heard and each and every phrase is as sweet and smooth as a dollop of honey. Powell's playing is both powerful and controlled and seamlessly matches Zachary's expression.
Chaminade used a number of contemporary poems as the basis for these songs. Her ability to wed her music to the poetry is nothing short of miraculous. Exemplar of this talent as a songwriter and that of these performers is Chanson de neige (Snow Song). How can someone take something as mundane, and even annoying as snow and make it into a prayer to nature? Chaminade has done it with this beautiful, somewhat ambivalent sad and joyous song and Zachary and Powell provide a gorgeous and expressive performance.
These songs are full of thrilling melodic progressions and an emotional range that transport you to the home of angels. Beauty of expression and emotion as only the French language can convey joins with a beautifully played piano and a voice that shows a clear love for song through the French language and you have a real delight. The variety of songs and moods is impressive. From the boundless joy of love (Plaintes d'amour) to the depths of lost love's despair (Rosemonde), this performance will have you laughing, crying, shivering in a bit of the mystery of the night and the moon's attraction (Ballade à la lune) and enjoying the memory of sweet dreams (Les Rêves & Rêve d'un soir). These are but a few of the outstanding tracks on this generously laden disc.
Chaminade's range of expression is amazing and so too is this pair's ability to recreate the feeling and soul of this music. No wonder Chaminade had so many fans and was acclaimed far and wide during her life. If you buy no other music of Chaminade, this one must be the one for it establishes what her music is about and offers a definitive performance unlikely to be matched or exceeded in the time you have left in your life to listen.
Richard A. Reublin
Music Historian, archivist and researcher
ParlorSongs.com
"Hooray, Hooray! What a beautiful album: Mon Coeur Chante!: the Songs of Cécile Chaminade! The songs are lovely, but your voice is exceptional. Such a treat to hear such music."
Deborah Ann Light
President, Board of Directors
The Thanks Be To Grandmother Winifred Foundation
"Mon Coeur Chante!--breathtaking. You sound absolutely limpid and lovely, the songs are gorgeous--I have really enjoyed listening to it. The sheer sound really took my breath away right from that first spin."
Chris Derby, SJ
Theatre Director
"Finally we can enjoy an entire CD devoted to the songs of the fascinating and talented Parisian composer Cécile Chaminade. Adored and encouraged by Bizet, Chaminade became the darling of musical circles around the world. "Chaminade Clubs" sprang up even in the United States, dedicated to her songs, piano works, and chamber music. By the time of her death in 1944, however, her music was considered old-fashioned and, unfortunately, relegated to the realm of "women's parlor music."
"Alaina Warren Zachary has here lovingly recorded 24 of Chaminade's 140 songs, many of them out of print. The most popular, "L'anneau d'argent", sold hundreds of thousands of copies in Chaminade's heyday. Zachary's light touch lets the 'little silver ring' glimmer in its own light. In other songs, many of them never recorded before, Zachary's beautiful high voice caresses the delicate emotions of the romantic and sometimes sentimental poetry. The singer has obviously taken the composer's own words to heart: "To me the words mean a great deal, and I never select any poem to put to music that has not made a strong impression upon me through its beauty of sentiment and fitness."
"Chaminade, herself a pianist, often accompanied singers in recitals of her music. On this recording, Zachary is joined by pianist R. Stewart Powell, who clearly shares the singer's affinity for Chaminade's songs. While some of the more delicate pieces require the light touch of a simple guitar-like accompaniment, others have been compared to Chopin in their pianistic ornamentation and difficulty. Powell's skilled and sensitive accompanying beautifully balances Zachary's soprano voice. It is a very nice collaboration indeed; Chaminade would have been proud.
"So treat yourself to a taste, or a whole plate of French pastry with the first recording of nothing but the songs of Cécile Chaminade. Settle into the refined ambiance of turn-of-the-century Paris. You will feel satisfied, not over-full, and you won't gain a pound."
Candace A. Magner, D.Mus.A.
Author of "The Songs of Cécile Chaminade" The Journal of Singing 57/4, and "Cécile Chaminade" Annäherung X :an sieben Komponistinnen (Portraits of Seven Women Composers), Furore, 1999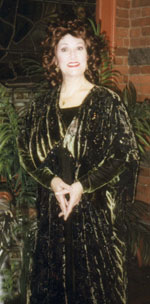 "Alaina Warren Zachary combines the delicacy and grace of bel canto with the intimacy and sparkle of cabaret. Her rediscovery of romantic gems by La Chaminade is infused with a delight which shines through at every moment of song and in her witty, sometimes touching, commentary on the composer's life and artistic struggles and triumphs..... a performance that is by turns charming, funny, and limpidly beautiful."
T.L. Drachman
Lyricist
"...magnificent program devoted to our namesake! Truly memorable. Thank you for bringing Cécile Chaminade to life so beautifully. It has been a great pleasure working with you to make this happen."
Del Rosenfield
Program Chair, Chaminade Music Club of Yonkers
(active since 1895)
"How glorious you sounded. Thank you for introducing me to the works of Cécile Chaminade. Your work was superb. Your interpretation was right on the money for every song."
Mark McManus
Talent Agent, Cunningham, Escott, Dipene, and FTA, ret.